BALLOON BONANZA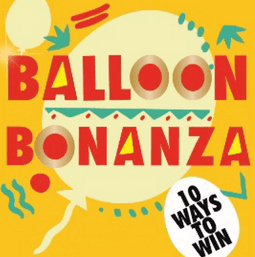 Photo copyrights: nationallottery.co.za
HOW TO PLAY BALOON BONANZA PLAYCARD
Take play card to terminal to be scanned, where ticket will be printed.
Ticket cost: R5
Ticket is important to claim your prize.
Determine your prize size by matching receipt numbers with balloon numbers.
How to win?
Match 3 balloons of the same color to win.
Your prize will be increased if you matched the star number.
PAYOUTS & ODDS
Prizes are fixed. There are certain fixed winning tickets in every batch of cards. Prizes vary on your matched numbers.
| | | |
| --- | --- | --- |
| Match balloons | Prize | Odds |
| 3 yellow + star | R 100 000 | 1 in 2 000 000 |
| 3 yellow | R 50 000 | 1 in 1 000 000 |
| 3 purple + star | R 2 000 | 1 in 40 000 |
| 3 purple | R 1 000 | 1 in 10 000 |
| 3 green + star | R 200 | 1 in 1 333 |
| 3 green | R 100 | 1 in 571 |
| 3 red + star | R 50 | 1 in 74 |
| 3 red | R 25 | 1 in 74 |
| 3 blue + star | R 10 | 1 in 23 |
| 3 blue | R 5 | 1 in 5 |
BALLOON BONANZA INFORMATIONS
Pack size - 250
Total Number of Tickets - 8 000 000
Number of Batches - 4
Tickets per Batch - 2 000 000
Price - R 5,00
Revenue - R 21 220 000
How often you win - 1 in 5,03
Payout - 53,05%