MORABARABA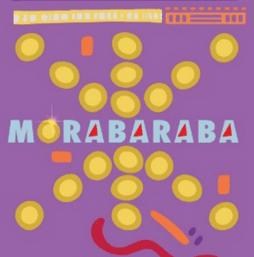 Photo copyrights: nationallottery.co.za
HOW TO PLAY MORABARABA PLAYCARD
Retailer will scan barcode and print ticket for you with numbers.
Ticket cost is R5.
Use numbers to find winning numbers on playcard.
How to win?
On playcard you can see different lines.
Use your printed numbers to match them on lines.
3 numbers next to each other matched horizontaly, verticaly or diagonally makes a line matched.
The more lines matched, more money won.
DIVIDENDS & ODDS
Maximum win is R100,000 for matching numbers in 8 different lines. Money prizes depends on how many lines your numbers matched. Here are fixed payouts for this game:
| | | |
| --- | --- | --- |
| Match | Prize | Odds |
| 8 lines | R 100 000 | 1 in 1 000 000 |
| 7 lines | R 10 000 | 1 in 200 000 |
| 6 lines | R 1 000 | 1 in 5 128 |
| 5 lines | R 100 | 1 in 526 |
| 4 lines | R 50 | 1 in 133 |
| 3 lines | R 20 | 1 in 34 |
| 2 lines | R 10 | 1 in 17 |
| 1 line | R 5 | 1 in 8 |
MORABARABA INFORMATIONS
Pack size - 500
Total Number of Tickets - 6 000 000
Number of Batches - 3
Tickets per Batch - 2 000 000
Price - R 5,00
Revenue - R 16 500 000
How often you win - 1 in 4,36
Payout - 55%