FAFI FORTUNE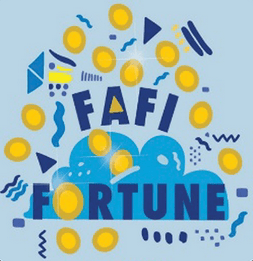 Photo copyrights: nationallottery.co.za
HOW TO PLAY FAFI FORTUNE PLAY CARD
Give play card to the retailer, who will scan the barcode and print your ticket with special symbols with according numbers.
Ticket costs R5
Search for matches on your ticket & play card.
You can either use symbols or numbers to find matches.
How to win?
There are four games on one play card.
Match all 3 numbers with associated symbols in at least one game.
More games you matched fully, more you win.
DIVIDENDS & ODDS
Prizes are fixed and maximum win is R100,000 for matching numbers in all 4 games. In every batch, about 23% of play cards win prizes. Money prizes depend on matched numbers. Total payout is 55%.
| | | |
| --- | --- | --- |
| Match all numbers | Prize | Odds |
| in FOUR games | R 100 000 | 1 in 1 000 000 |
| in games nr. 1,2,3 | R 5 000 | 1 in 333 333 |
| in games nr. 2,3,4 | R 1 000 | 1 in 125 000 |
| in games nr. 1,3,4 | R 750 | 1 in 20 000 |
| in games nr. 1,2,4 | R 500 | 1 in 8 000 |
| in games nr. 1,2 | R 250 | 1 in 4 000 |
| in games nr. 1,3 | R 100 | 1 in 1 600 |
| in games nr. 1,4 | R 50 | 1 in 200 |
| in games nr. 2,3 | R 25 | 1 in 80 |
| in games nr. 2,4 | R 20 | 1 in 33 |
| in games nr. 3,4 | R 10 | 1 in 17 |
| in ANY game | R 5 | 1 in 8 |
FAFI FORTUNE INFORMATIONS
Pack size - 500
Total Number of Tickets - 6,000,000
Number of Batches - 3
Tickets per Batch - 2,000,000
Price - R 5,00
Revenue - R16,503,000
How often you win - 1 in 4.21
Payout - 55.01%