There are many ways to play lotteries in South Africa. The most popular is buying tickets for yourself in the shop/retailer. But this way is not very handy. Very often you must stay in long queues to buy a few tickets of your favorite games, especially when the big jackpot is announced. So why not start playing online?

The first thing that you need to do before start playing, is registering your player account on the official site https://wallet.nationallottery.co.za/register/ . After visiting the link you will see a form like this: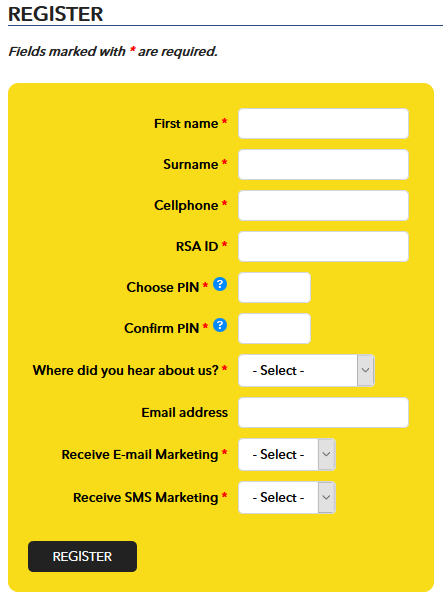 With this form, you can register but remember you must be at least 18 years old. What is more, foreigners can't register. You need to be a SA citizen or be a resident. Provide your credentials - first name, surname, cellphone, e-mail address and RSA id number. These are needed to make the account. Also, don't forget your pin that is needed every time you log in. If you wish you can receive marketing information from Ithuba by SMS or e-mail.

Click "register" and it's all. Next, you can log in with your phone number and pin. Inside your dashboard, the system will ask you to deposit some money in order to play games:





Ass you can see, for now, you can transfer money to your account with these banks:

ABSA,
FNB,
NEDBANK,
Standard Bank.
Having your money deposited you can start to play some games. You can choose from:
Lotto with options,
Powerball with options,
Sportstake13,
Pick3.
For the time being, there is no possibility to play Rapido. Let's what you can do after selecting Lotto game:
Selecting your numbers is very easy, just click or point with your finger the number and it will pop on your confirmed boards. You can play a maximum of 8 boards. If you have no idea for number click the quick pick option to generate random numbers for the draw. Notice that you can choose to play Plus 1 and Plus 2 with Lotto.
After clicking "submit query" you will be prompted to select how many draws you wish to play with these boards (max. 10).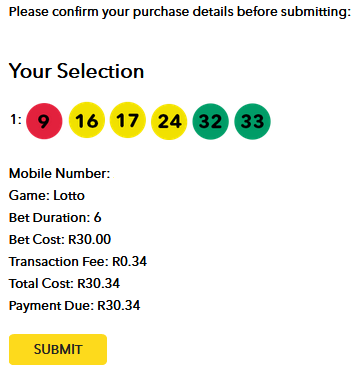 This is a checkout of our exemplary selection. Look carefully at your numbers, do they match with your selection? Check numbers, your mobile number, bet cost. Payment due is the amount you will pay after selecting "submit" button.
Your coupon is ready, good luck! After winning you can cash out in your wallet too!